SO TOTALLY DRUNK MEME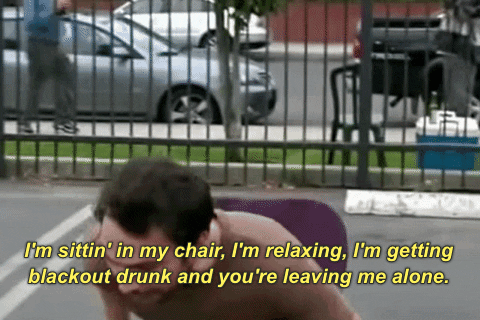 HOW DO??
1. pick a character
2. Post a thing with a prompt (or make your own)
3. Respond
4. Take a shot each time one of you makes a spelling error??
5. FUN!!!??



Gen
1. Put down the Mic!!! - way bad karaoke.
2. Dress up. - Obviously those old curtains are actually your new dress.
3. Why stop there? - Drunk? Check. Let's roll a spliff.
4. Another round!! - Obviously yir nott drumk enuf.
5. Night on the town - time to go out there and make some mischief!!

Angst
1. Break up. - So you were told it was over. Fuck that!! Time to drink.
2. Bad day. - Wow people are so stupid and work sucks. Wine'o'clock!!
3. Moody. - You know what happens when you mix alcohol with 'that time of the month' (boys, you too)? YOU'RE ABOUT TO FIND OUT.
4. Crying spell. - WOW FUCK EVERYTHING BAWLS FOREVER.
5. Bar fight - SCREW YOU AND THIS LAMP RIGHT HERE!!!

Cute and Fluffy
1. Movie night. - Some whiskey and your fav flick with a bud or two.
2. Anniversary/Birthday. - night in with your sweetie or your friends for that special night.
3. Flirtin' with the tender. - Poorly.
4. Dance party!! - Lets go clubbin with our best pals.
5. Drunk text. - hey so like did you know that sperm travvels

Smut
1. Bathroom sex. - you're in a club and you grind against this hottie. Time to take it up a notch.
2. Take out. - Let's take this back to my place, shall we?
3. Sex club. - Orgy? Yes please.
4. Batting for the other team. - You're usually gay/straight but.. you're just a little bit curious.
5. A little risque. - Let's do something a bit less conventional, shall we?