Welcome Home, Master
A Butler and/or Maid Smut Meme
Who wouldn't want to have a maid or a butler, if even for a day? It would be incredible to have someone taking care of your every need, your every whim, and be loyal to you. Well, you've lucked out; you have your own servant! But what if that whole "taking care of your every need" concept went even further?
Instead of just tucking you into bed, you have a maid or butler who'll go to bed with you and not only to give you someone to cuddle with. After all, it is their life's work to
serve
you.
rules
Comment with your character, preferences, role you'd like to play, and any info you care to include, ie clumsy maid, stoic butler, master who'd take advantage, etc.
Reply to others.
Thread.
why?
AU:
You've had or been a servant all your life; perhaps the two of you even grew up with each other, one of you "indebted" to the other. Or you just got hired the normal way, of course!
SUDDEN:
Congratulations, you've come into the service of some hired help. Use them as you will, the tab's not on you.
ROLEPLAY:
This isn't really a business transaction. You're both playing pretend.
how?
ROMANCE:
You'd prefer to focus on the loyalty, forbidden status, fluff, or romance angle, with smut added liberally, of course.
KINK:
It's all about the kink - obedience, master/slave, power grabs and reversals, costumes, etc.

COMPROMISING POSITION MEME
Up until now, there's definitely been some tension between you two. Whether it's more romantic or flatly sexual is, understandably, dependent on the personalities involved, but the fact remains that you both have been dancing around the issue for whatever reason. Why do why say "up until now?" Well, it's simple. Somehow, either through accident or otherwise, you've end up in what can only be considered a compromising position: you're in the other's lap, you're on top of them, chest to chest, almost kissing, so on and so forth. This leads to the ultimate snap in your tension - you just can't hold it in any longer, even if you try to get out of this situation unscathed.

The direction you move in, again, depends on the people involved, so things could take a turn for the awkward, the cute, the romantic, the desperate, or even the steamy. What's for certain is that whatever's between you may never be the same...unless you guys, in typical will they/won't they fashion, can repress and pretend nothing ever happened.



HOW TO PLAY



Reply with your character's information and your preference.
If you're playing a young or teenaged character or simply don't like overly explicit themes, feel free to clarify what you'd be comfortable with.
Reply to others!
WHY
accidental: It was a trip, an not so calculated move, or another mistake that lead you here.
on purpose: You were getting closer and enjoying each others' company, planning a move...but you didn't mean to get this close right off. Or maybe you did
WHAT
awkward: UH UH SORRY FOR LANDING ON YOUR. UHM. YOU KNOW. But moving makes it worse, or you could be in a state of undress.
cute: Ah, just kiss them already! Or at least look into each others' eyes and have a moment.
romantic: A sweet, long kiss and perhaps some long-held confessions are in order.
confessions: Actually, speaking of confessions, they might just slip out without anything sweet...oooor your body reacting to this new position may be all the proof the other person needs to know something's up.
desperate: Oh, fuck it. You might never have this chance again and you've been wanting them so badly, you may as well snog at least, no matter what.
steamy: The smut option!

THE BITE MEME
R
U
L
E
S
✚ Leave a comment with your character's name, fandom and any preference.
✚ Go to ye olde
RNG
and roll to your heart's content. You could even skip the rolling. We won't tell.
✚ Remember, six for the location and six for the type.
✚ Tag whoever you want. Let no one go unbitten.
✚ Show us your teeth.
W
H
E
R
E
Ⅰ
the LIP bite. Sometimes kissing isn't enough, or sometimes you're too nervous to even talk. Bite a lip. It doesn't even have to be yours.
Ⅱ
the THROAT bite. You don't want to suck their blood, but you want them to know how thin this flesh is here.
Ⅲ the ARM bite. It's silly, but want to let them know how they're of you. Bites on the arm are usually childish and done in anger or playfulness.

Ⅳ

the LEG bite. Know what long legs need? A nice set of teeth sunk into them. Just look at those thighs. Or you could always bring new meaning to the term "ankle biter".

Ⅴ the COLLAR bite. This one's for all you people who don't like turtlenecks. Bites leave marks, and well, some people don't want to show theirs off like trophies.

Ⅵ the HIP bite. Know what's hot? Teeth on your hip. Marks there are definitely enough to make anyone weak in the knees. If that's not what you're into, just remember there are more reasons than just sex to bite someone, especially here.




H

O

W




Ⅰ

the GENTLE bite. No one said biting had to be hard. This one's meant more for lovers. Little nibbles on the earlobe or pulse are always nice.



Ⅱ

the BRUISING bite.

Don't break the skin on this one. You want to leave a nice impression of your pearly whites on the other person, enough so afterwards you can enjoy that darkened mark.



Ⅲ

the BLOODY bite. Biting has ill repercussions. Whether it's on purpose or an accident, there's blood, and possibly lots of it.

Ⅳ the HARD bite. This one doesn't bruise, but it does leave a nice impression of your teeth. All that orthodontic work really paid off.

Ⅴ the TEASING bite. No, no, no. Don't just sink your teeth in all at once! Ease your partner into it. Bite softly again and again before letting yourself clamp. You want to let them know you might not do it.

Ⅵ the PINCHING bite. All front teeth. Don't let anything further than your canines feel your partner's flesh. This one's just to let them know they irritated you, or it could just be that your mouth slipped. Sorry!

wrapped around your finger
selectively sweet shipping meme
You might be the biggest curmudgeon in the known universe, just as prickly as a porcupine. Perhaps you're on the other end of the spectrum, cool like a cucumber and never letting anyone get to you. They're not worthy of your time. Still, despite what the case may be, you have one little weak spot. The person you love gets all the sweetness and kindness you have, which admittedly may not be too much, and in your rare moments together, many would be shocked at how you behave. In fact, your special person might not even know that you can be grumpy outside of your encounters!

Well, goes to show that everyone doen't know everything about you, do they?


This meme is pretty shamelessly for fluff, opening up, dokis, and also more dokis.
Respond with your character, preferences, what role you'd like to play if it matters, and any other info.
Then, respond to others.
ROMANTIC FEEDING shipping meme

The stomach being the way to the heart is not exclusive to men. So now, it's time to share some food with that crush, lover, significant other of yours. Mmm! And more than that, you're going to feed them! Whether it's all in fun, flirting, because they're injured and need assistance, or some other reason, you're determined to see them get a square meal.

In contrast, you could be the one getting fed. Open up and, no matter what, be glad someone cares!

HOW TO PLAY

Comment with your character, preferences, and whether they're being fed or doing the feeding.
Tag others.
RNG that shiz.
Cuteness ensues.
PROMPTS
Fun: Whether it's teasing, flirting, or just plain fun, you want to feed them.
Try!: This is the best thing you've ever had! They have to take a bite.
Made it For You: You're not just feeding them, you made the food for them.
Stealing Your Food: Technically, you're not feeding them, they're just scarfing from your plate. They're lucky you love them so much.
Indirect Kiss: This is a big deal if you're not actually dating yet. Their lips touched where yours did...ohmigosh you're going to diiiie.
Make Them Eat: They don't eat enough. That's going to change when you get ahold of them.
Can't Do it Themselves: One of you is so battered and bruised that the other has to help out come mealtime.
Your Favorite: Even if it's not to your taste, you've got what they like the most.
Kind: You're just a sweetie who enjoys sharing sweeties.
Fancy: You're in a fancy restaurant and splitting an expensive plate.
Packed Lunch: It's lunchtime, so you'll share what you have.
Just So Cute: They look so adorable when they're eating something they love.
Intimate: "Intimacy" doesn't have any sexual terms here, mostly. Instead, eating together is another way to bond.
Sexy: How about eating off of each other, or something equally naughty? A human plate is all the same.
Innuendo: Some foods you can't avoid eating in a manner that looks a little...suggestive.
Lick: You're not eating. You're cleaning up their face with your lips and tongue.
WILDCARD


SECRET relationship;
The fact that you're in a relationship with this person isn't public knowledge. Actually, no one knows about it except for the people involved. Maybe you guys are just private like that; on the other hand, it may be a necessity to keep things a secret from others. Maybe you're both team mates, and others on the team would give you grief, or you're not suppose to be dating, or you're not the type to usually date and you're only testing the waters. Perhaps it's the combination of you two, possibly an odd couple, that would bring some controversy or some teasing. Or, you know, you could not want to deal with friends and relatives being busybodies. Your reasons are your own.

Are you content with stealing moments to be together as a couple? Do you want to make your relationship known and the fact that you can't drives you batty? Remember, there are lots of benefits to dating in secret. You can be yourselves completely, away from prying eyes, and get to know each other better as potential longterm romantic partners. In a way, it's ideal.

...still, do you ever wish you could scream from the rooftops how much you care for your significant other?
how to play.
★ Comment with your character, preferences, and information.
★ Reply to others.
★ Play out stolen moments (◡‿◡✿), secret dates (◕‿◕✿), secret handholding (⊙‿⊙✿), and secret kissing ( /)w(\✿)!

Interspecies Love Meme
V
ampires and humans. Angels and demons. Ghosts and the living. The idea of "opposites attracting" is hardly a new one, but with the rise in popularity of supernatural creatures, aliens, and other sentient beings beyond our human understanding, the forbidden romance trope has been injected a shot of fresh blood- sometimes quite literally.
This meme does just that, taking the whole "not meant for each other" thing to it's most logical extreme. Of course, it's not always angst and depression. These days, mermaids and bird-people can have their relationships in peace to some degree.
Rules
Comment with your character, putting any preferences you have (ie, "humanoid characters only," F/M, etc). Also, be sure to note your character's "species" for others to reference (Name | Character | OTA | Human, ghost, mutant, alien, vampire, god, zombie-catgirl hybrid, etc).
Reply to others. If your characters aren't different species, feel free to AU or anything else like that.
Use the rng to determine your prompt.
Also I didn't think I needed to say this, but be excellent to each other. Dick comments and anon bullying are not on.
Prompts
Meeting:

Did you know there were, I don't know, werewolves before this? Or maybe you thought all aliens were evil. Will this...thing change your perception?

Falling in Love:

You know you're not the same, but your feelings don't care.

Self-Hate:

Perhaps you're mad at the being you're in love with, yet you're more angry at yourself.

Can't Be Together:

Whether for self-inflicted reasons or societal rules, you can't be in love with who your heart has chosen and it's putting a strain on you.

Pushing You Away:

Things are getting too intense, and for both of your sake, you want to make friend/crush/lover hate you.

Beauty & the Beast:

One of you is beautiful, the other hideous. Maybe, though, the beautiful one is ugly in the eyes of society, depending on where you live. Whatever the case is, you don't look the same.

Confession:

Screw the rules, you're going to tell that sweet girl/guy/other how you feel! What can go wrong? Or this is something you've put a lot of thought into and you're scared, but you're going to do it.

First Time...or Not:

Finally, the two of you are taking the next step and getting physical. It may go off without a hitch, depending on your...you know, or- OH GOD, HOW IS THAT GOING TO GO IN HERE. Wait, you have a...?

The Kinky Option:

Hey, maybe being different will pay off. Think about it. A long tongue? Ghost powers? Sounds like it could be fun in the bedroom.

Prejudice:

"What are you doing with that dirty monster?" "You know we can't be involved with humans!" "We don't take kindly to your type around here." Why can't people just leave you two be?

Facing Your Instinct:

It's hard to be with someone when you want to suck their blood. Or eat their brains. Or possess them.

Because of Me:

Your lover has been dragged into your fight or hurt by others of your kind. Now they're in the crossfire.

Standing Up For You:

Hey, knock it off! I don't care what you think, he's perfect in my eyes.

You Don't Know You're Beautiful:

The fluffy option where you're trying to make your loved one see just how much you care and how they're beautiful to you, no matter what.

Gifts:

Show your affection with a gift from your culture.

Starting a Family:

Can you even reproduce? Is it something you want to consider? Perhaps it's new ground to tread, so you'll have to be the first to think about it.

WILDCARD

FAKE DATING MEME
Whether you're trying to make someone else jealous, trying to save a stranger from a creep on the subway, doing a spy mission, running a con, trying to get your parents off your back about being single at a holiday dinner, or any number of other reasons, fake relationships are a hugely popular trope. Whether things stay fake or you surprise yourselves by falling in love for real, the journey from start to finish can be a wild one. Feel free to explore that here. Just make sure you know what you're really getting into before you're in too deep.

• Top level your character. Include any details you might think are relevant. Or don't. As always, we're not the cops.
• Reply to other people's top levels!
• Have fun!

Run Away Together Shipping Meme

The two of you have decided to run away together. Bottom line, you've come up with that plan and you've worked up the guts and the means to do it. The most obvious source of a desire to leave together is a romance you can't have until you're gone from this place. It's like all the eloping that happened in those epics of old. How charmingly beautiful! How romantic! Who says the old ways have gone out of style?

But other reasoning behind the decision could be from the serious - you both want to escape imprisonment, an oppressive atmosphere, or a miserable destiny - to the more lighthearted. Maybe an adventure is just what you need, where you'll finally get to see the world...and, slowly, fall in love. Because that's what the crux of all this is: even if the escape started out as mere convenience, you both want to stay close and work together. In the end, when you've finally run where you want to be and the danger, if any, has passed, you may find you don't want to go your separate ways.


Comment with your character, preferences, and why your character would run away alongside someone.
Reply to others.
Run, run away, and never return. Or do.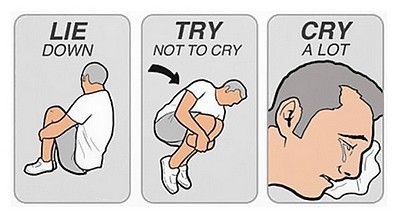 Per Wikipedia:
In a support group, members provide each other with various types of help, usually nonprofessional and nonmaterial, for a particular shared,
usually burdensome, characteristic. The help may take the form of providing and evaluating relevant information, relating personal
experiences, listening to and accepting others' experiences, providing sympathetic understanding and establishing social networks. A support
group may also work to inform the public or engage in advocacy.
And now you know. And knowing's half the battle.
○
Post with a character.
○
Unlike most memes, you'd probably be better off by providing a general theme for people to respond to. You know, have your subject or post read "People who got turned into animals in their respective games" or "Time travelers and keeping the space/time continuum intact."
○
Respond to other people and support them through their trials and tribulations.
NOTE:
While you're welcome to post whatever the hell you want, if you delve into triggery whatnot (i.e. abuse, suicide, things which tend to actually evoke real life support groups and therapy) please label your posts with a nice and blatant warning so someone who was looking for Time Travelers Anonymous doesn't accidentally stumble into your suicide thread instead.
Sentinels and Guides Shipping Meme
A Sentinel!AU Meme
There are special people in the world: Sentinels--whose five senses are incredibly enhanced, sometimes to the point of overwhelming and who can easily lose themselves in fugue states--and Guides, the empaths with the ability to ground a Sentinel and focus them. Meant to be the protectors of the Guides, for every Sentinel there exists a guide that is their perfect match. In some universes, when matches are made, a Sentinel and Guide form a soulbond to fill the feeling of emptiness.

How easy was it for you to find yours? How are Sentinels and Guides treated in your universe? Or maybe you're one of the normal, unremarkable people. Do you fear Sentinels and Guides? Despise them?
Rules

1) Post with your character/canon in the subject header.
2a) Choose whether your character is a Sentinel or a Guide
or
2b) If you don't know or don't care, just leave it blank!
3) Information about Sentinels and Guides can be found
here
and
here
. Information on 'The Sentinel' which this meme comes from can be found
here
.
4) All the tagging! Have fun 8D
Prompts
oo1.
The Meeting
:
How did you meet? Was it at an event organized specifically for finding your other half? By accident? Did you follow a mystical calling to them? Some other way?
oo2.
The Bonding
:
Do Sentinels and Guides in your universe soulbond? How does it go down? Is there a ceremony or do you just retreat to the bedroom?
oo3.
Rejection
:
Sometimes Sentinels or Guides propose a match but it's just not perfect. You don't feel the pull or maybe you think there is someone better or maybe you're already claimed. Maybe you were claimed and someone better came along?
oo4.
Protection
:
Sentinels are meant to protect Guides, any Guides, but it's even worse when they feel their Guide is in danger. They go feral; blind to anything but stopping and killing whoever threatened their Guide or the bond. Maybe someone attacked your Guide or you haven't bonded yet and you feel threatened or maybe you're the one doing the threatening. Whatever the reason, Sentinels in a feral state are dangerous and only their Guides can stop them.
oo5.
Lost
:
Sentinels often lose themselves in their senses. Either you're a Sentinel who has lost themselves or a Guide that has stumbled on one or a friend trying to draw them out. Unbonded Sentinels will find it hard to escape without a Guide. Or maybe you're bonded already which means you just need yours to come home.
006.
Persecution
:
Sometimes normal people or the government fear the power of Guides and Sentinels. Guides are empaths, feeling the emotions and sometimes passing thoughts of others and it can make people feel violated. Sentinels often have enhanced strength, which can make them dangerous. So they scorn them, hurt them or in the case of governments, regulate them.
oo7.
Death
:
Unbonded Sentinels and Guides eventually lose themselves to the empty cavern inside them. Torn apart from the inside by the feeling of something missing. Breaking the soulbond of a Sentinel and Guide is agonizing and horrifying, leading quickly to death for the remaining partner.
oo8.
Old-School
:
Guides used to be treated on the same level as slaves. Unable to work unless their Sentinel said. Not allowed out on their own. They used to wear collars and couldn't own land or inherit money. Maybe the old ways haven't completely fallen out of style.
oo9.
Unbonded
:
Nothing is worse than being an unbonded Guide or Sentinel. Always looking for your other half to fill that empty feeling but you probably have friends that aren't your match or who are trying to set you up with someone. Maybe you're skeptical about the whole love at first sight thing and haven't been looking.
o10.
Wildcard
: Some mish-mash of the above or anything else you can come up with!
Image from weheartit / original meme by

imadeamistake